Back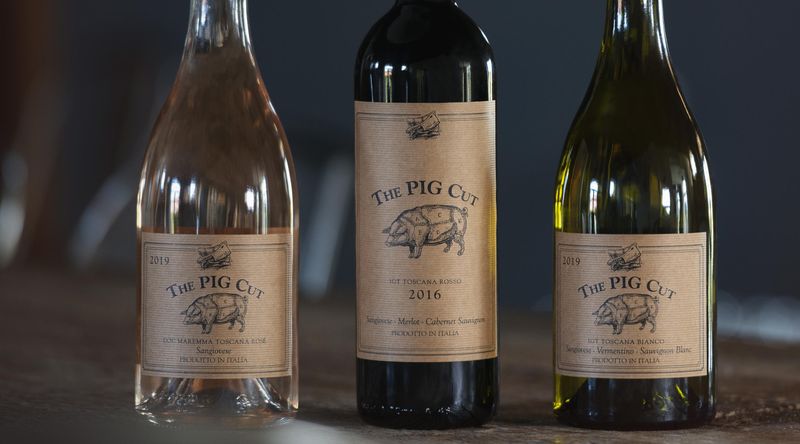 THE PIG Cut Wine - case of 6
THE PIG CUT wines are the result of a unique collaboration between our wine team at THE PIG and Tenuta Fertuna Winery located in the heart of the magnificent Tuscan Maremma, Italy. Our shared values, sense of hospitality and spirit of generosity are witnessed in every glass. Tenuta Fertuna's Winemaker Paolo has specially blended these wines with a freshness and vitality to accompany our daily picked Kitchen Garden produce. Red and white are available in cases of six or a mixed case of 2 red, 2 white and 2 rosé.
This product contains alcohol. By purchasing this product, you confirm that you are 18 years of age or over.
THE PIG Cut Red - Sangiovese, Merlot, Cabernet Sauvignon, 14% abv
Ripe, well-defined black fruits, sour cherry & balsamic. This is combined with a subtle note of vanilla coming from the oak.
THE PIG Cut White - Sangiovese, Vermentino, Sauvignon Blanc, 12% abv
Floral and delicate, with soft notes of white fruits and elderflower.
THE PIG Cut Rosé – Sangiovese, 12% abv
A Provençal style with a lovely balance and a refreshing finish.
THE PIG Cut wine is also available to buy from any PIG hotel Reception.
*Kindly note that products are not delivered gift wrapped.
Packaging and delivery
When you checkout, you'll be able to choose from the following delivery methods.
If your order contains wine/cocktail sets and gift vouchers together, your gift vouchers will be packaged in a presentation envelope, rather than a gift box.